Have you heard about the new magazine Lavish Dulhan? Well, if you haven't, you should head on over to your nearest Chapters and buy a copy of the magazine!  It's a new magazine geared towards a fashion forward, fusion bride. The first issue came out a few months ago, and it's filled with inspiring weddings, ideas, and useful advice & suggestions from industry vendors.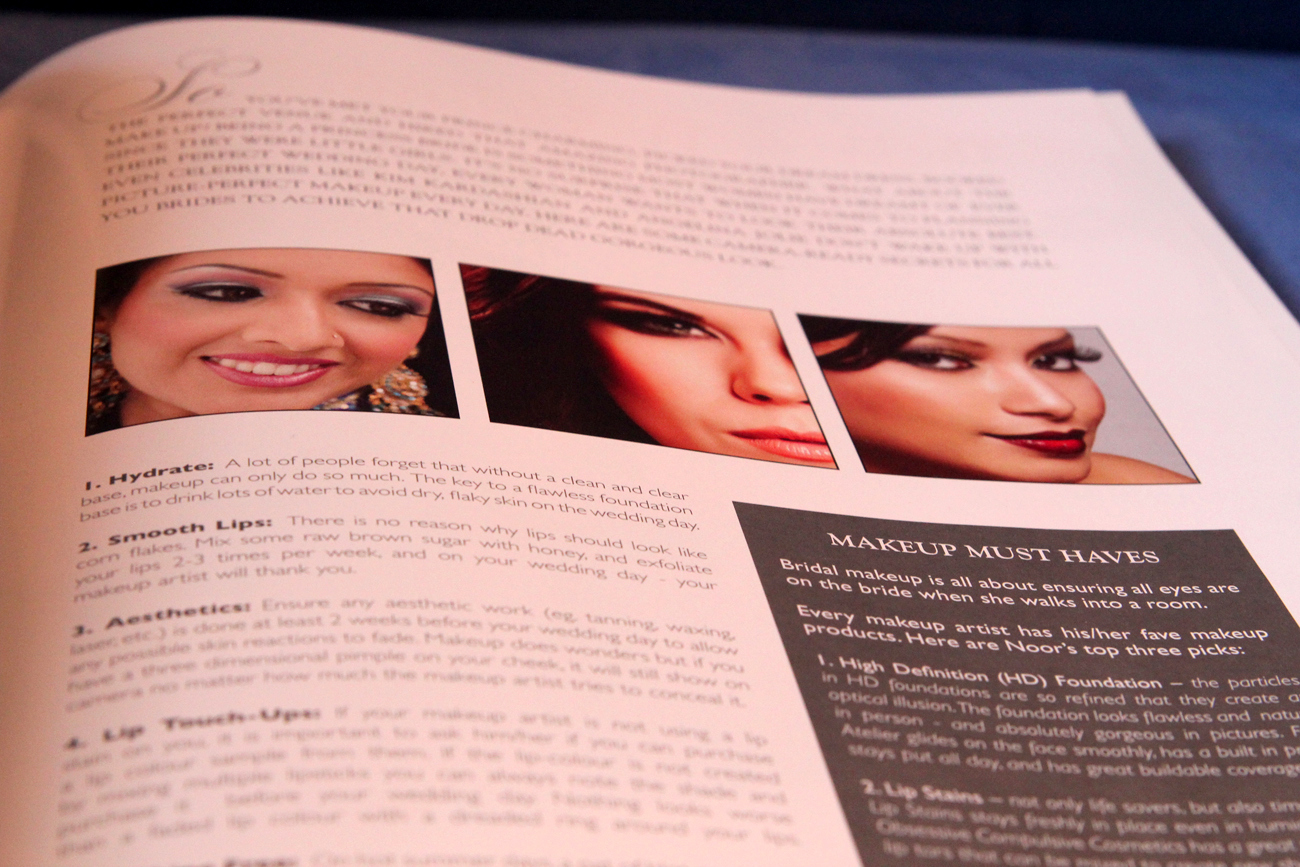 And guess who has an article published in the magazine? That's right – yours truly! 😉
Here it is:
So you've met your prince charming, picked your dream dress, the perfect venue, and that amazing photographer. What about the make up? Being a princess bride is something most women have dreamt of ever since they were little girls. It's no surprise that when it comes to planning their perfect wedding day, every woman wants to look their absolute best. To achieve that drop dead gorgeous look, there are just a few simple and easy techniques to follow. Even celebrities like Kim Kardashian and Angelina Jolie don't wake up with picture- perfect makeup every day. Here are some camera-ready secrets for all you brides:
Hydrate: A lot of people forget that without a clean and clear base, makeup can only do so much. The key to a flawless foundation base is to drink lots of water to avoid dry, flaky skin on the wedding day.
Smooth Lips: There is no reason why lips should look like corn flakes. Mix some raw brown sugar with honey and exfoliate your lips 2-3 times per week and the day of your wedding. Your makeup artist will thank you.
Brides – Please do aesthetics about 2 weeks before the wedding day to allow any possible skin reactions to fade. Makeup does wonders but if you have a 3 dimensional pimple on your cheek, it will still show on camera no matter how much the makeup artist tries to conceal it.
Touch Up: If your makeup artist is not using a lip stain on you, it is important to ask them if you can purchase a lip colour sample from them. If your makeup artist is not mixing multiple lipsticks to create your lip colour, you can always note down the shade & purchase it before the wedding day. Nothing looks worse than a faded lip colour with a dreaded ring around your lips.
Be Shine-free: On hot summer days, a pat of blot powder on the T-zone (forehead and nose) will get rid of shine before the pictures. Brides should always keep multiple blotting tissues in their pouch.
Q-tip Tricks: Always keep a Q-tip cotton swab in your purse . This comes in super handy when you need to touch up that runny mascara, or dab those tears of joy.